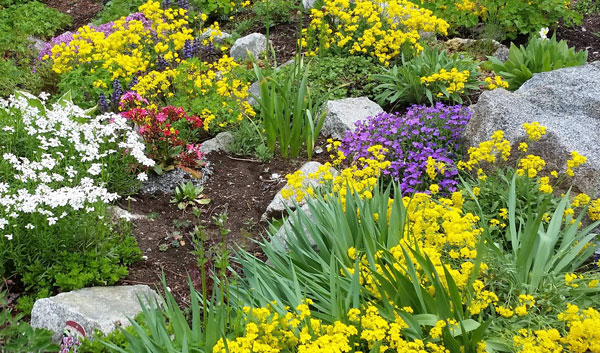 Take definite cheer my friends from this photo, despite how cold it may be today, as this is how colourful local gardens can be looking a mere 5 weeks from today. I say "can be", as of course you have to have put the effort Jan and Peter Wilshaw did into planting such a lovely collage of perennials in the seasons leading up to this May 23, 2016 spring scene in Quispamsis. This picture so perfectly illustrates the beauty of perennials… all the work was done gradually during the previous few seasons, and the stage was set for this colourful display to unfold. Nothing for the Wilshaws to do from snowmelt to this point but watch the fruits of their labour mature.
I love a busy snapshot like this, as it illustrates so many points I don't know where to start. The obvious one I suppose is to name these brilliant bloomers so you might try them in your own gardens. Several are from a group I often call the Spring Groundcover Perennials. There are 10 or more low spreading perennials that start blooming in late April, overlapping and taking over from each other, until late June. Wonderful multi-coloured patchworks can be created on rock garden banks by combining these plants. The full list in about the order they start to bloom is as follows: white rockcress, moss phlox (4 or more shades), purple rockcress (3 shades), pinks (Dianthus), bugleweed, basket of gold alyssum, candytuft, saxifrage, soapwort, snow-in-summer, thyme, and sedum. The great thing about this group too is that most are quite deer resistant.
I'll point out which perennials from the above list are blooming in this picture, with a few comments on each. The brilliant white on the left is candytuft, which blooms about a month, and is among the taller in this group at about 12" in bloom, along with the bright yellow, which is basket of gold alyssum. Both of these are what's called semi-woody perennials, meaning the stems don't necessarily die, but act like shrubs, and stay alive most winters down near the base, budding out in the spring. They usually have only a single stem coming out of the ground, so you can't divide them like the clump-forming perennials. Alyssum does produce seedlings around the mother plant, and those can be transplanted where you want new ones. Candytuft doesn't seed as readily, but you may be able to root stems like you might with geraniums or ivy. (Otherwise buy them at your local garden center… need I spell that out??).
The pink beside the candytuft is not in this group of groundcovers, as it is a slow-growing single rosette-forming perennial called Lewisia. We just started carrying them a few years ago, and the few I've planted have overwintered well. It is a charming little rock garden plant, unique-looking and easy to care for.
Upper left the bit of mauve showing is moss phlox, which forms a low mat of tough needle-like leaves, and covers itself with white, blue, pink, or mauve flowers for over a month in late-April-May. They are semi-evergreen to a degree, and can be difficult to get rooted divisions from, especially over mulch. The spreading plants will gradually root into bare topsoil. Just gently lift the mats to test for rooting. If you half-bury clumps that have started rooting, they will easily take full root in those new spots, so you can quickly multiply small patches to cover large areas. All groundcover/rock garden plants like full sun and good drainage, so locate your rock gardens in sunny raised beds or on slopes.
That lovely violet-purple patch on the right is purple rockcress, cousin to the white, and comes in at least 3 shades of mauve to purple to blue, all of which harmonize beautifully. They too spread to patches over 3' wide, and bloom for a month or so in late May-June. They root a bit more easily than some groundcovers, so digging rooted clumps to transplant goes quite well.
Though the Wilshaws consider this mainly a spring garden, they have some provision for summer colour too, for instance the spiky blue-green leaves of Iris just building steam for a June display.
No harm in having a bit of bare soil too, as there is in the middle of this bed- it provides a visual contrast to the green, a place for weeders to step, room for the groundcovers to spread into, and a spot to plant some annuals for boosting colour impact.
A few words too on the use of rocks in beds and rock gardens. The limitations are mainly availability and handling- a small rock is 20lb, basketball size is 50, and it's real easy to find rocks that weigh more than you do. Having said that, I will still make these points. Generally, the bigger the rocks you use, the better they look. Arrange them in natural clusters. Spin every rock around, and move it in all directions relative to the other rocks and the bed, until you have it in the perfect position. Then bury it slightly, as it would appear in nature. If you can't move them, bribe a teenager to give you a hand!